Chapter 4: Mobile Security
Mobile Threats Jeopardizing Company Data
Mobile security is increasingly becoming a big concern as more and more companies adopt Bring Your Own Device (BYOD) environments, which allow end users to connect to corporate networks through their own (often multiple) devices. Even in cases where a business does not offer BYOD, end users often find a way to log onto business networks on their own.
With personal devices accessing corporate networks, businesses must now protect endpoint devices that are not completely under their control, which opens up the business to greater risk. Trying to gain control over personal devices also presents the challenge of making sure the company does not infringe on personal apps and information employees store on their own devices.
Mobile Device Security Challenges
Lost, misplaced or stolen devices—remote wiping them quickly is key to protecting sensitive business and personal information.
Mobile malware—hackers are now turning their attention to mobile devices and executing successful breaches through text messages. Android markets can be set up by anyone looking to sell malicious software to unsuspecting customers. Note: While mobile malware affects Androids more than IOS, a few exploits exist for Apple products as well.
Unsecure third-party apps—if breached, they can serve as a gateway to other apps on a device and the device operating system, where security controls can be manipulated.
Files with sensitive information accidentally emailed to an unauthorized party or posted online— once something is sent, it's out there forever.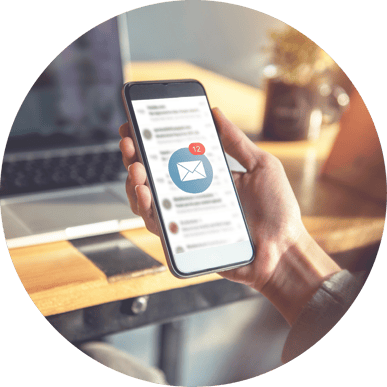 Employees that utilize unsecured public Wi-Fi are another area of concern. Hackers in the vicinity of or on the same network can overtake a device without the end user even being aware, capturing sensitive data in transit. The end user can then become the victim of a man-in-the-middle attack, also referred to as hijacking. The hacker leverages the device so that it turns into an invasive device against other unsuspecting end users.
How Employees Can Secure Their Mobile Devices
Set a PIN or passcode:
This is the first line of defense—if someone wants to access the device, they first need to break the code. This is not an easy task and can operate as a deterrent against theft. Some device manufacturers also provide the option to automatically wipe the device after a few unsuccessful attempts at the passcode or PIN. So, even if a phone is stolen, information cannot be accessed.
Use remote locate tools:
Several software solutions help locate lost or stolen devices through GPS and geofencing capabilities. Apple offers a service like this for mobile devices aptly named Find My iPhone. For Android users, the Android Device Manager offers these services, and Windows mobile users have this same option from the Windows Phone website. Similarly, many third-party applications are available in each of the app stores. Do you invest in or recognize the need for cybersecurity? 82 percent of SMBs say they're not targets for attacks as they don't have anything worth stealing (Towergate Insurance). In a Webroot survey, less than a quarter of respondents indicated having a dedicated in-house cybersecurity team or individual (Webroot 2015 SMB Threat Report).
Keep devices clean:
Phones are mini-computers, and just like "big" computers, they need to be cleaned up from time to time. Utilizing an antivirus and malware scanner is always a good idea. Malware can compromise information stored on mobile devices and has a snowball effect that continuously piles up until it slows down or stops the device.
Mobile Device Management (MDM) solutions help businesses and their employees apply these best practices by providing the ability to remotely wipe any devices that are lost or stolen. Such solutions also isolate personal apps from corporate apps in separate digital containers so that personal information remains private, and when an employee leaves the company, only their corporate apps and data are deleted while their personal apps and data are left intact.
By deploying an MDM platform, businesses can also enforce the use of passcodes to access devices, and they can apply geofencing capabilities that allow a lost device to be more easily located. End users can also be restricted to using only the corporate apps for which they have proper authorization. MDM also protects devices from jailbreaking and rooting—where hackers try to gain access to the operating system to open security holes or undermine the device's built-in security measures.